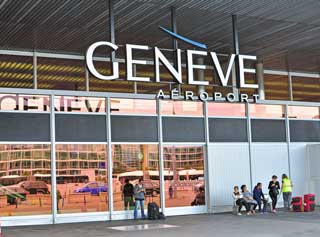 Taxi Annecy - Geneva

transfer

Gone are the days of waiting ages for a bus. And there is no need to chase after a taxi when you arrive and risk twisting an ankle and breaking the bank.
Always on time, your pre-booked taxi driver will be waiting for you at Geneva airport when you arrive, holding a sign with your name on it. All you have to do is get in the car, without worrying about your luggage.
With Annecy Taxi SylviTax, the private taxi transfer from Geneva airport to your destination can then safely begin.
The experienced taxi driver guarantees you a calm and relaxing ride.
Your stay should be a memorable one from the moment you set foot in Geneva airport.
You can make a booking for your return flight so that you don't have to think about anything other than your visit to our region.

Geneva International Airport is the closest to Annecy, ideally situated at the heart of the region's major destinations:
Taxi Geneva-Annecy

and other destinations

Taxi Geneva airport transfer - Annecy : 42 km , time : 45 minutes
Taxi Geneva airport transfer - Megeve : 70 km , journey time : 1h25
Taxi Geneva airport transfer - Chamonix : 83 km , journey time : 1h15
Taxi Geneva airport transfer - La clusaz : 51 km , journey time : 1h15
Taxi Geneva airport transfer - Chambery : 87 km , journey time : 1H10
Taxi Geneva airport transfer - Lyon : 149 km , journey time : 2h00

Close to Geneva Airport are three of the largest lakes in Europe which are easily accessible thanks to our shuttles:

Taxi Geneva airport transfer - Lac Leman (Yvoire) : 28 km , journey time : 50 minutes
Taxi Geneva aiport transfer - lac d'Annecy : 42 km , journey time : 45 minutes
Taxi Geneva airport transfer - Lac du Bourget (Aix-Les-bains) : 72 km , journey time : 1 hour
Taxi Geneva airport - Val-d'Isere: 180 km , journey time: 2 hours et 30 minutes
You will be spoiled for choice with the many summer activities on offer as well as the many beaches that are available for your enjoyment.

See prices taxi Annecy Geneva